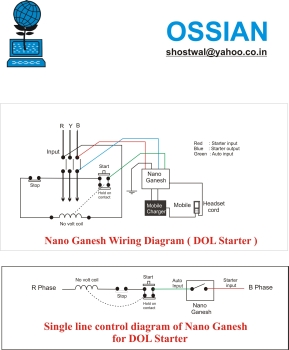 How to connect Nano Ganesh to the starter ?
Install Nano Ganesh unit in the starter panel.
In case of DOL starter, Nano Ganesh can be directly connected to the starter.
For higher H.P., the pumps are started by star delta starter. In that case ensure that the starter is fully automatic.
For the mobile setting refer to the mobile phone setting given separately.
Put charger of the mobile phone in the socket of Nano Ganesh.
For connections and wirings of the Nano Ganesh, follow the procedure below:
Refer to the wiring diagram as well as single line diagram.
How to test Nano Ganesh ?
Get the settings of a mobile phone done referring to the separate sheet...
Make power supply off.
Insert a headset pin of Nano Ganesh into a mobile phone.
Observe, a sign of headset on the mobile phone.
If headset sign is not visible, retry the headset pin fitting properly  into a mobile phone. There are different  configurations of headset pins for different mobile phones. We have given two units with two different configurations which work fine for NOKIA models. You may try any one model for your desired NOKIA phone and repeat it for other unit.
After a sign of headset is visible on the mobile phone, make power supply to the system on. ( In this case a main switch of 3-ph )
The red indicator on Nano Ganesh will be on. It is MAINS ON indicator.
Press on the digit  6 or 9 on the mobile phone connected to the device. It will turn on the green indicator and it will give a command to the starter to start a pump. When green indicator is on, it means that the relay inside Nano Ganesh has been made on, so that terminals STARTER INPUT and AUTO INPUT are shorted internally.
A bypass switch provided on the panel does the function of shorting these two terminals in case there is a problem in starting the pump with remote facility.
One  can make the starter off by pressing a off digit on the same mobile phone.
This completes the testing of wiring of a device to the starter.
Now , you can make a call from other mobile to the one which is connected to the device.
After 2/3 rings, a call will be automatically received by Nano Ganesh and you will hear a plane tone. It indicates that the electricity is available at the pump end.
If electricity is not available, there will be no sound on the remote mobile phone.
After confirmation of power, you can press on digit for starting the pump; a pump will be started and you will notice a change in the tone. It is like tr…..r…r……….Hence, a pump has been started..
Now , you can cut off the connection.
You can do the same way for making the pump off.